Thursday
After our exhaust and tire escapades, we were ready to cross over into El Salvador. Ironically, a pair of Jonathan's shorts were made here. So after 10 years and 20,000 miles, they finally get to go home. However, since Jonathan has become a bit attached their stay in their homeland will be brief. Their slave-driver of an owner will continue to keep them and wear them until they fall apart on him.
This was our longest border crossing yet, mostly because it is apparently a major trucking route. The road, CA2, that leads to the La Hachadura border crossing was a decent two-lane paved road. And while we did encountered few vehicles going the same direction, when we arrived at the border, the wait was a mile long with semis out the wazoo. We pulled into line at about 11:30am. We slowly moved forward every 10 minutes or so. It gave me plenty of time to stop by one of the many shops along the way and get copies of everything.
Eventually, we decided that I should walk ahead and see what the process would be when we got there. At that point, we weren't too far off. I went up to an officer and explained that we were driving a car across the border and didn't know the process. He said to come on up (at the border there were two lanes on each side, one for regular cars, one for semis, you just didn't know that until you got there). So when there was a gap in traffic in the oncoming lane, we bypassed the remaining semis to the buildings; I guess we could have done that from the beginning, assuming we could have found a clear path. We pulled up and parked along the building where I had talked to the officer. As soon as we got out an unofficial man came up to help us with the process; this happens a lot at borders and they expect a tip. I tried to explain that I had no money at all, and he said not to worry (later I learned that he was a border-crossing guide for a group of American motorcyclists) and helped us through the entire process.
The officer had to stamp the vehicle permit, and I made sure to tell all people handling the vehicle permit that we would be returning to Guatemala soon. Then, leaving the van parked, we had to walk down (closer to El Salvador)to Migración to get our passports stamped. After the stamps, we had to get copies made, so we walked across the street to get those. Apparently they need two copies of the Guatemalan vehicle permit (I got one more copy as one of the write-ups of the border crossing said that they would need another one at the el Salvador Customs—turns out the third didn't work as it didn't have the stamps—one on the front and one on the back—that it needed so I had to get another copy anyway). We also needed two copies of the driver's passport with the exit stamp page as well, so I gave him two copies I had already made and he put the copy of the stamp on the back that page. For the 5 prints, I paid Q5 ($0.64), which was all the Guatemalan money I had left. And, you need two copies of the vehicle registration with driver's license—I already had those. The man who was helping us put them in order—two stacks of the permit copies on top, followed by the registration and passport, plus the original copy of the permit.
Then we had to walk back across the street, and then across to the far side of the building (the side where those entering Guatemala drive) and on the end farthest from El Salvador, there was an office that I assume was Customs. At least the room was air-conditioned slightly. So far we had been the only ones in line and it had taken less than 5 minutes. At this point however, there were 8-10 people in front of us (it was hard to count as some where in and out). And, apparently the two people working the counter were overworked. We stood there for 20 minutes probably waiting for them to call us. We handed him the stack of paperwork we had copied and the driver's passport and told him we planned to return to Guatemala soon. He took the papers, disappeared for 5 minutes and then returned and wanted to go look at the vehicle. He verified the numbers and then we all went back inside. A few minutes and stamps later, we had our passport back and the original permit and one full stack of copies (to be given to El Salvador customs). Now we could drive to the El Salvador side.
Leaving the Guatemalan customs area, we once again entered a two-lane road, that soon turned into a two-lane bridge. Again, technically, if you can fit and and if the lane is clear of oncoming traffic doing the same, you can bypass the semis and drive up to the El Salvador customs area. However, we weren't comfortable doing that (or sure that we could) until we were over the bridge and the semis began to pull off onto the shoulders to make room for other traffic. The semi in front of us actually waved us to go on ahead. Interestingly enough, while we were on that bridge, there was a police vehicle in front of us, coming to the Guatemalan side, with his lights on. He was having lots of trouble making any progress. It didn't help that the driver of the vehicle he was behind had left his truck a while ago. So, eventually the semis pulled forward on our side and left a gap that he could maneuver through. It was slow-going, though.
The bus is driving through the middle of the road, bypassing the semis. We followed them.
When we crossed over to the El Salvador side, there was an officer standing by a semi at another bridge. We weren't sure whether we were supposed to stop or not—he didn't wave us down or anything, so we bypassed him. Apparently, that was NOT the thing to do. The officer at the other end of the bridge waved us down and told us to go back. So Jonathan backed the van up the bridge back to the officer. We apologized. All he needed was to see a copy of the vehicle permit, he may have stamped it, I am not sure. Then we were allowed to proceed to the other end of the bridge. That officer checked our passports. I asked him where to go from there and he said to pull to the right and go the building right next to the green road sign. We could see it from there, thanked him and went forward. There was a bus parked in the middle of the street where we were supposed to go, so we didn't think there was parking there. So Jonathan parked along the road and we walked to the Migración counter. As we stood in line, a military officer came up and told us we couldn't park where we had, but at this point we could see there was parking closer, so I had Jonathan move the vehicle there.
There was a line here. After 5 minutes, we made it to the counter. This guy wanted our passports. Then he asked if we had a vehicle and what its tag (
placa
) number was. I told him and he wanted a copy of our registration (which he returned). When he was done, I asked him where to go next. He said customs and pointed the way.
When we arrived there, we were the only ones in line. He wanted the stack of copies we had made in Guatemala. He also needed a copy of the Guatemalan permit with the stamps that we had received since we had last gotten copies (as in the extra copy I got earlier wouldn't work). It cost either $0.10 or Q1. (Interesting note about El Salvador: their official currency is the US dollar—has been since 2001, I think.) After I did that, we went out with the customs agent and verified the numbers and he inspected the contents of the van. He didn't ask about any vegetables or meat or anything, and I didn't have any showing either. So I guess you can bring that into El Salvador without contestation. Thinking we were about done, instead he said we needed to go get the mandatory vehicle insurance. This office was farther down the building (more into El Salvador) and on the other side. They gave us a form to fill out and we paid $15 instead of the normal $10, I guess because it was classified as a Microbus. The printed out an insurance card for us. Now with all the required paperwork, the first customs agent gave us the go ahead to get our permit from the next customs agent. He printed off the permit and then told us to go get a copy of it to bring back to him. So off to the copy machine again.
Finally, after we brought back our copy of the permit, we were free to go. It was now about 2:30. We were tired and hungry and not sure exactly where we were going. I suggested making lunch, but Jonathan was ready to escape from that place. So we pulled out and made our way along the highway. We wanted to go Bosque El Imposible, a national park near the border and the highway. Unfortunately, I didn't know how to get there, exactly. I was hoping for a nice sign to give us a clue. We paced what I suspected was the road into the forest, but there were no signs for it. We continued on a little longer. I then decided we should probably turn around and try that road. We went for a while with no signs or anything. Then we came to a town sign that had symbols for tropical rainforest and camping. I thought we should stop there and eat lunch and then figure things out.
After lunch, we decided we would go through town looking for a tourist info center or a park sign and then make a decision. We went through the entire town without spotting one. Then when Jonathan was ready to turn around, I spotted a brown sign with yellow lettering at the end of the road. That looked like a park sign to me, and sure enough when we got there, it said Bosque El Imposible. But, there was a locked gate across the road. There were plenty of people walking along its road, but none came to help us. We learned later that they were the locals who lived in the forest (their families were there before the land became protected), and apparently we came the back way into the park, the main entrance is near Cara Sucia with a sign on the highway (we just didn't go far enough earlier). After another minute or so, though, a man in a polo came from the nearest house and welcomed us to the park. We paid the entry fee of $6pp and got to camp just a little ways down the road into the forest on nice leveled ground where the locals had been playing soccer.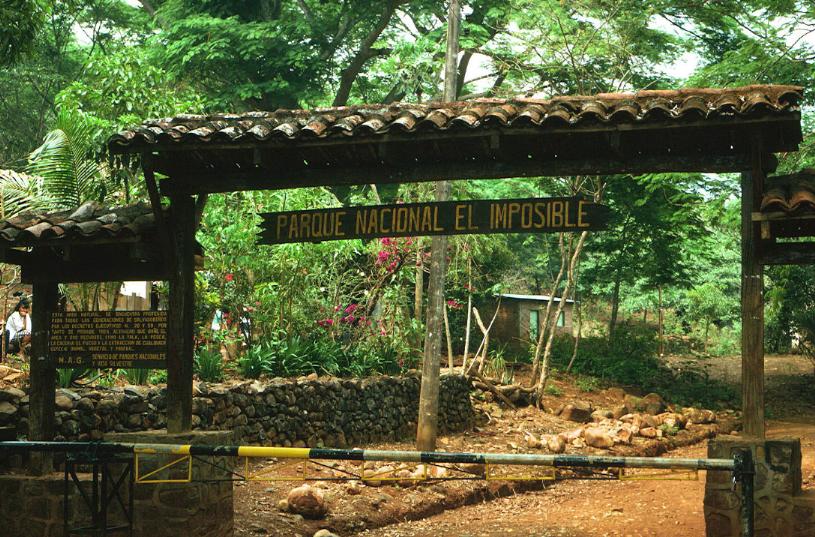 Friday
The night before, we had set up a tour guide to take us around the park at 9 am. The gatekeeper said it only cost $10, so we thought that was reasonable. We read in a guidebook later, that guides are free, but tipping $5 is customary. She ended up taking us on 4.5 hour trip, so I figured $10 was more than fair. She only spoke Spanish, so I translated for Jonathan, but the things she told us about the plants were nearly the same (and less detailed) as what our cave-tubing guide had told us in Belize.
This huge Ceiba tree is 200-300 years old, 8 meters (24 ft) in cirmcumference and 34 meters (102 ft) tall. Jonathan is having an intimidation war with an inch long ant that is colored like a bumble bee. It reared back and was ready to spew acid on him, quite the mean little creature.
But, man, I should tell you, trekking those 5 km one-way up that mountain was arduous. I mean, the path was nice and clear and easy to follow; but it was covered in rocks, which were sometimes loose, but mostly just uneven and awkwardly shaped. It made walking a weird sensation, almost like walking in sand without the sinking and with more foot rotation—basically just a lot of work. And the way back down was even harder, but I only fell 2-3 times, mostly to avoid rolling an ankle. It made all those US national park trails look really tame.
Our guide almost stepped on a snake, which meant that it nearly came at me. Fortunately it wasn't aggressive.
Interestingly, our guide never broke a sweat. I was already shimmering from the heat and humidity before we started walking and by the end my cotton pants were soaked with sweat. Whereas our El Salvadorian guide didn't even shimmer, and she was wearing a cotton polo, skinny jeans and Converse-like shoes. I was totally jealous.
The lookout point. It is hard to look good after walking 5 km (and another 5 km to go).
We left the park after soaking in the nearby stream and eating some lunch. We stayed at a swimming resort, Turicentro Manantial Los Bajios, in San Juan Opico for $4. They had an interesting pool setup, filled with lake water.
They had a pool with a bucket on top of a covered platform. When it fills, it spills water all over the roof.