We spent Saturday and Sunday nights on the banks of the Pacific Ocean north of the small town of Eréndira. This was a delightful area. The perch were we stayed the first night was a popular fishing and clamming area. When we pulled up, there was someone just finishing packing up his fishing gear. At that location were some rocks that jutted out into the ocean. At first, I thought only multitudes of birds (pelicans and seagulls) occupied these rocks, but as I walked out onto the beach, I heard the barking call of a sea lion. Sure enough, on the rocks farther out there was a colony of sea lions sunning themselves.
It was a fun location. However, the smell of bird poo was a bit overwhelming at times. Saturday right before sundown, Jonathan and I went for a jog along the coastal road. I tell you, there is nothing quite like running along a beach at sunset. As we ran, we scoped out another area that we could pull off and park that would not be so putrid with the avian feces and relocated there when we got back. Before I called it a night, I also did an ab workout. It was definitely a refreshing sensation to do it at dusk with a nearly full moon above.
The nights held another surprise. When the sun was gone, you could see the luminescence of the plankton in the crashing breakers. It was a first for me to experience glowing waves. It was especially exciting to learn that it was natural and not the result of some toxic pollution. When the moon went down, the waves were especially bright green-blue.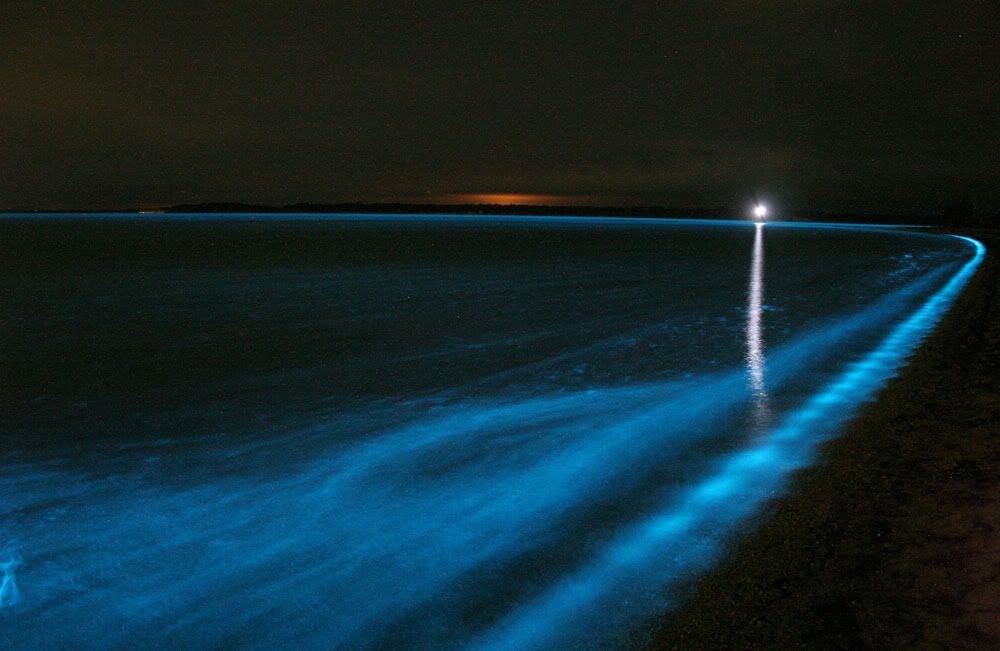 Stock photo, as our photos gave the camera a conniption.
Then, to top it off, Monday morning before we left, Jonathan spotted a group of dolphins swimming where the waves broke. At first, we thought they might be shark, but then one poked its head out of the water, and we confirmed they were dolphins. It was pretty exciting.
Spanish words of the day:
Ocean: océano
Sunset: puesta del sol
To swim: nadar